Are you looking for a budget Wifi router that supports Wi-Fi 6 (802.11ax)? Then you have landed on the right page. At the start of this year, I was looking for the same.
After many days of research, I ended up buying the TP-Link Archer AX10 (AX1500) router with one compromise. That is, it does not have a USB port. With a USB port, you can connect your drives to the router and access it across all the connected devices. However, at this price range, I don't find any router that supports both the Wi-Fi 6 and USB port.
Disclosure: Please note that some of the links in this post are affiliate links and at no additional cost to you, I'll earn a commission. Know that I only recommend products and services I've personally used and stand behind.
Wi-Fi Terminologies
Before we dive into the pros and cons of this router, let's first understand some wifi terminologies so that we can make some informed decisions based on the features provided in the product.
Wi-Fi 6
IEEE 802.11ax-2021 or 802.11ax is an IEEE standard for wireless local-area networks (WLANs) and the successor of 802.11ac (Wi-Fi 5). It is marketed as Wi-Fi 6.
MU-MIMO
MU-MIMO stands for Multi-User Multiple-Input and Multiple-Output which allows the Access Point to form beams towards each Client, while transmitting information simultaneously. By doing so, the interference between Clients is reduced, and the overall throughput is increased since multiple Clients can receive data at the same time. 
In simple terms, multiple devices can be connected to the Wi-Fi and receive data at the same time. This technology was introduced in Wi-Fi 5.
OFDMA
Orthogonal frequency-division multiple access (OFDMA) is a multi-user version of the popular orthogonal frequency-division multiplexing (OFDM) digital modulation scheme. Multiple access is achieved in OFDMA by assigning subsets of subcarriers to individual users. This allows simultaneous low-data-rate transmission from several users. 
Gigabit Ethernet
Gigabit Ethernet is currently the latest standard which has a maximum throughput of 1,000 megabits (or 1 gigabit) per second.
Dual Band
A dual–band router emits wireless signals on two separate frequency bands (2.4GHz and 5GHz). 2.4Ghz band will have long-range and less speed while the 5Ghz band will have a short-range and more speed. Older devices may not support the 5Ghz band so they have to connect via the 2.4Ghz band only. Most modern devices support 5Ghz bands.
Review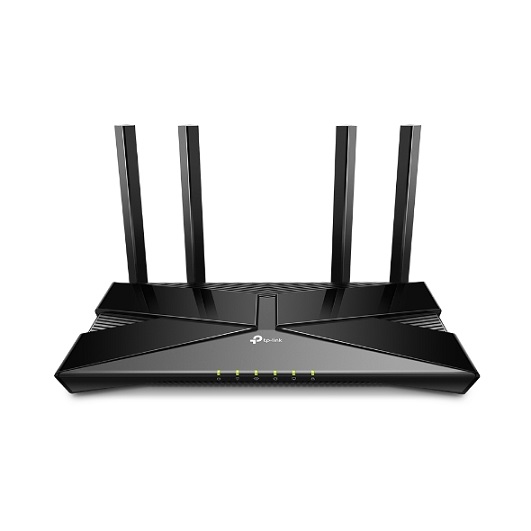 After almost 5 months of usage, I can say that it is a very good router that you can get at this price bracket. I have connected 5 devices (2 Laptops, 2 Smartphones & 1 Android Smart TV) to the router and I'm able to work on the remote VDI using the laptop, browse the internet on the laptops/smartphones, and stream movies on the TV all at the same time without any buffering or whatsoever.
Pros
Dual-Band router – 300 Mbps on 2. 4 GHz (802. 11n) + 1201 Mbps on 5 GHz (802. 11ax)
Faster Wi-Fi 6 – Get Next-Gen Wi-Fi speeds up to 1.5 Gbps
Triple-Core CPU – Instant response to all your network activity with a 1.5 GHz triple-core CPU
Broader Coverage – 4 Antennas and beamforming technology focus signal towards individual clients for broader coverage
Connect Dozens of Devices – More simultaneous connections and higher average throughput with OFDMA
Full Gigabit Ports – Take full advantages of broadband speeds up to 1 Gbps
Easy Setup – Finish your network upgrade in minutes with the Tether app
Easy and Smart – Connect a new device to your Wi-Fi without using the password, but your voice
Cons
Price
You can check the price below in amazon.
Shop from Amazon US
Shop from Amazon India
References
https://en.wikipedia.org/wiki/IEEE_802.11ax-2021
https://en.wikipedia.org/wiki/Multi-user_MIMO
https://en.wikipedia.org/wiki/Orthogonal_frequency-division_multiple_access
Verdict
If you have a tight budget and looking for Dual Band Wi-Fi 6 supported router and don't mind about the USB port, then you can definitely go for this TP-Link Archer AX10 (AX1500) router. If you are not from India, then you can also find this product here.
Read Next: Logitech MK295 Wireless Keyboard and Mouse Combo Review – Best Combo